http://vinoalvino.org/blog/category/blogosfera/page/9
Vino al vino

il blog di Franco Ziliani
5 marzo 2007
Club Barolo plus: guida Web ai Barolo che non "profumano" di legno
E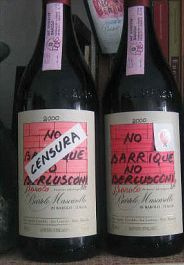 ' sempre sorprendente rilevare quale potere di fascinazione abbiano i grandi vini sugli appassionati di tutto il mondo. Un potere che riguarda, ovviamente vini di lunga storia e mercato internazionale come i vini di Bordeaux, della Borgogna, della Champagne, i Riesling tedeschi o i Tokaij ungheresi, ma che fortunatamente si sta estendendo anche ai più importanti vini italiani come Barolo, Brunello di Montalcino, Barbaresco, così apprezzati da dare addirittura vita, in alcuni casi, a veri e propri club di estimatori.
Uno di questi club, nato in quel Regno Unito che è il mercato più ampio e forse più difficile del mondo, è dedicato, come dice il nome, Club Barolo plus, al Barolo, nonché al Barbaresco, ed è nato per iniziativa di un grandissimo cultore dei vini italiani e piemontesi, l'ingegner John Wheaver, membro dell'Ordine dei Cavalieri del Tartufo e dei vini di Alba e della Compagnia dei Vignaioli di La Morra, e di un gruppo informale "di appassionati di Barolo e Barbaresco ( 'plus' altri nebbioli da Carema a Sassella, 'plus' altri vini langaroli e monferrini da Grignolino a Pelaverga)".
Lo spirito con cui è nato il Club è quello di favorire lo scambio di informazioni e osservazioni sul Barolo, il Barbaresco e gli altri vini base Nebbiolo nel Regno Unito, privilegiando, ed è questo l'obiettivo ed il taglio particolare del sito Internet, i vini base Nebbiolo che potremmo definire "barrique free", (come quelli dei Mascarello, Bartolo e Giuseppe/Mauro, dei Beppe Rinaldi, dei Cappellano, dei Cavallotto, dei Brezza, di Giacomo Conterno, di Bruno Giacosa, ecc) considerato che le pagine Web sono state create "principalmente per aiutare i tifosi inglesi a trovare Barolo e Barbaresco fedele". Con questo aggettivo Wheaver ed i membri del Club Barolo plus designano i vini che non risentono dell'influenza, negativa e fuorviante, dei piccoli fusti di rovere francese che utilizzati nelle fasi di fermentazione e affinamento conferiscono un carattere "differente" e divergente dall'identità che vini come Barolo e Barbaresco hanno storicamente assunto.
§
http://blog.winemag.com/editors/2007/12/03/too-much-oak-in-barolo/
Too Much Oak in Barolo?
by Jim Gordon
Monday, December 3rd, 2007 at 3:19:03 PM
During a short stay in the Piemonte (Piedmont) wine region I met proponents of opposite sides of the ongoing debate over the use of small oak barrels for making Barolo, Barbaresco and the region's other red wines. It's a bit hard to believe that this philosophical battle continues after a generation, but it only shows how passionate Piemontese winemakers and connoisseurs are about the subject.
As I blogged before, I spent half a day with Pietro Ratti whose father, Renato Ratti, is one of the fathers of modern-day Barolo wines. He played a big role in modernizing the winemaking process here, transforming what were often brown, lean, aromatic but very tannic and often tired-tasting traditional Barolos into more supple, fresh, but still-structured and aromatic modern Barolos. And the French-oak barrique (60-gallon barrel) was one of his important tools. *
I ran into a proponent of the other side, the traditionalists who believe barriques are abhorrent for Barolo, quite accidentally at Al Vecchio Tre Stelle in Barbaresco, where I dined in style one night and stayed overnight upstairs. In the breakfast room the next morning I struck up a conversation with John Wheaver, a semi-retired English engineer who has been coming to Barolo for years.
Turns out his passion in life is to drink and promote the non-barrique wines of Barolo, and to make no money doing it. He maintains a dot-org on the subject. Here he has assembled a roster of Barolo producers who do not use small barrels, but use large oak casks instead. This list he calls Vino da Uva in a cheeky reference to his belief that making wine, or at least Barolo, in barriques is making it from oak and not from grapes.
Sixty-two producers populate the main list, and he adds six others who make some but not all of their wine sans barrique. It's a valuable tool for people who want to understand the differences in Barolo wine styles, but can't get this information from blind tasting notes.
Wheaver's list of barrique-banning Barolos and Barbarescos includes several of my old favorites that are often well reviewed by Wine Enthusiast, too, including Aldo Conterno, Marcarini, Bruno Giacosa and the affordable cooperative, Produttori del Barbaresco.
I admire critics, whether professional or amateur, who take a firm stand on an issue like this and stick with it. It gives them a secure position from which to fight. I am not that dogmatic, however. I tend to see multiple sides to an argument.
In this case, yeah, I like a lot of the wines he lists, but I also like many of those that he considers vino da quercia (wine from oak). Ratti is a great example. Ratti wines have deep colors, rather lush textures, definitely a spiciness from oak. They're delicious and compelling, but they don't taste like Bordeaux or Super-Tuscans. To me they still have that unique regional aroma that is floral and tea-like, with vivid sour-cherry flavors, fine tannins and long, gripping finishes.
I also visited other cellars in the region, including Pio Cesare and G.D. Vajra, on this trip. Cesare uses more barriques, Vajra more traditional large oak oval casks. Their styles of Barolo are quite different. Cesare is new world in style, with cinnamon-cedar spiciness, generous ripe fruit flavors and a relatively soft texture.
I found two of the Vajra Barolos, made in a thoroughly modern and spotlessly kept cellar, to be full of the traditional virtues of the region. Their Barolo Bricco del Viole 2003 was not too dark in color, had fantastic light aromas of clove and tea, lean and focused cherry flavors, and a clean and slightly biting texture.
The contrasting styles of wines, both very appealing in different ways, led me to believe that considerations besides cooperage are more important in choosing which Barolo to buy. I think it's because the character of the Barolo and Barbaresco grape variety, Nebbiolo, is so distinctive that its personality comes through despite varying winemaking methods.
¤
*[ I did email Jim Gordon on this - though did not contradict him in his blog. But Renato Ratti, with Massimo Martinelli, did not use barriques on Barolo. His "modern" style (lo stile Marcenasco) it should also be noted was intended to increase, not reduce, bottle ageing potential. The Ratti cellar does now use bariques, and it is detectable. JW ]
§
http://www.massimosozzi.it/blog/2007/03/05/
Massimo Sozzi blog
il Club del Nebbiolo
scritto da massimo.sozzi il 5 marzo 2007
In Gran Bretagna, patria dei Club per eccellenza, ha visto la luce il "Club Barolo plus".
"'Club Barolo plus' è un gruppo informale di appassionati di Barolo e Barbaresco ( 'plus' altri nebbioli da Carema a Sassella, 'plus' altri vini langaroli e monferrini da Grignolino a Pelaverga. " si legge in una pagina tradotta in italiano sul sito del club.
Fondato dall'ingegner John Wheaver, il Club sponsorizza, promuove e ricerca le aziende che producono vini a base nebbiolo senza barrique, fornendone persino una meticolosa lista, utile anche per noi italiani!
Così Franco Ziliani (da cui ho preso la segnalazione) presenta il sito del Club, in un interessante articolo: "…non va visto come lo spazio Web di un gruppo di assolutisti, ma come una vetrina (…) dove una serie di rispettabili opinioni sul Barolo ed il Barbaresco vengono espresse con grande chiarezza e determinazione, in nome di una filosofia del gusto che merita rispetto e considerazione. E che io personalmente condivido in toto.
Questo Club Barolo plus britannico refrattario al gusto uniformante dei piccoli fusti di rovere francese non rappresenta forse un modo intelligente e garbato di affermare un'idea personale del vino e di opporsi alla standardizzazione imperante?"
Forse il sito è anche troppo semplice, ma la passione che ne traspare è davvero genuina!
§
Return to 'Barriques'
'Barriques' (italiano)
'V da U'